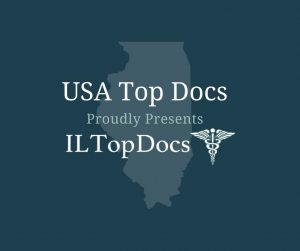 USA Top Docs proudly presents the newest addition to the Top Docs brand, IL Top Docs.
IL Top Docs, a division of USA Top Docs is an exclusive healthcare resource available to the general public to assist them with  finding top healthcare providers in their area.  IL Top Docs is committed to reviewing, approving based on merit and featuring the most respected and highly qualified healthcare providers in all of Illinois.
We believe that the general public deserves a trusted resource to locate high quality reviewed and approved healthcare in a targeted way.
ILTopDocs.com is an online platform with an easy to use search feature where users can choose the county and the area of practice and/or specialty they would like to search.  Once the user finds a doctor who suits their needs, they can review additional information about that approved provider, virtually being able to "meet" the provider prior to their appointment.  
In addition to reviewing and approving Illinois healthcare providers, USA Top Docs also reviews and approves healthcare providers in New York, New Jersey, Florida, Texas, and Massachusetts.
If you would like to apply to be a IL Top Doc or if you would like to nominate a healthcare provider, please click here to contact us.
---
About Us
ILTopDocs.com is a comprehensive, trusted and exclusive  healthcare resource featuring reviewed and approved Top Doctors and Dentists in the Illinois area online in an easy to use format. IL Top Docs only reviews and approves providers based on merit after they have been extensively vetted.
IL Top Docs is a division of USA Top Docs which allows patients to meet providers online before making their appointment.
For more information, e-mail us at [email protected] and/or visit www.ILTopDocs.com.